How to win your Fantasy Football League Without an Expensive Cable TV Bill
When it comes to the world of football, there are football fans and then there are fantasy football fans. For those of you unfamiliar, fantasy football is essentially a game within a game where fans make virtual rosters of real NFL players and pit them off against other teams using stats from each week of NFL play.
It's an incredibly addictive way to watch sports; and when you're in a league of your own, missing a week is simply not an option. If you love fantasy football, but you need a way to cut costs, keep reading because you have come to the right place. 
Even though cable is expensive and often comes with terrible customer service, it can still be awfully convenient. All you have to do is sit down in front of the TV and turn it on; no guides to read, no devices to purchase.
So understandably, moving away from that comforting convenience during football season is a bit of a nerve-wracking proposition. But I'm here to tell that you that is actually much easier than you think. 
Now before we get into the nuts and bolts this article I want to start with some quick thoughts on Fantasy Football Strategy.
Fantasy Football Playbook
I am not a fantasy football expert, but I have been playing for almost 10 years and do have some tips that I would like to share with you.
So here was my advice back in 2015, when I first wrote about this topic – and it is pretty simple. 10 years ago I was playing golf with a scratch player and he gave me a tip that I will never forget. He said "never take advice from someone who is not a scratch player", and I loved this tip so much I applied it to my golf game and my fantasy football analysis.
"Only take Fantasy advice from retired players, coaches, scouts, or people who actually study NFL game tape". At the time, I believed that everything else was nonsense and was no more valuable than flipping a coin.
Fast forward to 2018 – times have changed, and the introduction of advanced football stats, metrics & analytics has opened my eyes to a whole new world of possibilities. Over the last several years I have become extremely interested in performance indicators like 40-time, SPARQ, juke rate, target share, yards after catch, completion percentage, average yards per carry, hand size, injury history, breakout age, how well a player performed in college, and the list goes on…
By combining football analytics, with game tape analysis you can absolutely gain a competitive advantage over your league mates. Think about it – if the metrics and the film tell us that a player is great, then the probability of this being true goes way up!
Here are some Tools, Podcasters and Content Producers who I stand by and know to provide exceptional value, rankings, film notes, analysis, and advice:
Fantasy Football Podcasts
Film Study
Advanced Stats
Advanced Stats, Film Study and Game Theory
Rankings
Research Tools
Beyond Pod – Podcasting tool that allows you to download to your hard drive. This helps save cell data usage, as you can save everything on your phone while you're connected to WiFi.
PlayerProfiler – Search any player and find get advanced fantasy football stats, metrics, analytics, player rankings, SPARQ, Speed Score, and College Dominator.
If all things are equal don't flip a coin:
Avoid Thursday Night games. It has been scientifically proven that sleep has the greatest impact on athletic performance. So if a player has a short week, and is traveling then we can be certain they are not sleeping well. Point is, players often under-perform with a short week of rest.
Draft players on good offenses. More offense means more opportunities, and opportunities directly translate to fantasy points.
Watch for the intangibles. Work ethic, attitude, coaching philosophy, the strength of schedule and overall narrative play a huge role in how much success a player or team will have. Look for clues that tell you what kind of person these players are. If you hear things like, Film Junkie, or Gym Rat… these are good signs, as it takes an unbelievable amount of dedication to compete at the NFL level. Talent is not enough.
Final thought: Be wary of bad analysis. Most of the Fantasy Football, and Football all together, analysts have no idea what they are talking about. Find people you trust, and block out the rest of the noise. Your team will thank you for it.
What should I add to this list? Please share the knowledge and sound off in the comments section!
Now back to why you are reading this article – Here's how to watch football without cable: 
---
Watching Football with an Antenna
First and foremost, you'll need an over-the-air antenna. The modern OTA antenna still gives you all of the broadcast networks you know and love (CBS, FOX, etc…) but it does it in 1080p HD. No static, no monthly fees; just you, your team, and your football.
Most OTA antennas range between $30-$60 and can be found at your local Wal-Mart, Best Buy, or any other place where you would usually purchase electronics. Purchasing and setting up an OTA is relatively simple, so theoretically you could walk into the store on Sunday morning and be ready to go before pre-game. Learn more about OTA Antennas by reading: WHAT IS OTA?
For the record, I always recommend using an Outdoor Antenna as it will pick up more stations, and will provide better picture quality. But if you live close to an Antenna Tower, or are restricted by your living environment, an indoor antenna is definitely worth a look.
Click Below to Learn More:
Indoor Antennas
Outdoor Antennas
OTA DVRs
Mohu Antennas are the #1 Selling Antennas on Amazon for a Reason!
Most NFL games are televised on the broadcast networks, which means that you'll have access to only the games that are in your market (nothing new, as cable subscriptions, come with the same limitations). Here's a sample map, courtesy of 506Sports.com, to show you which teams are in your market:
Now if you're unlucky enough to have your favorite team outside of your market for this week, have no fear because there's a way to still catch the game. But before we get to that, let's talk about another way to catch games in your market.
---
Sling TV
Monday Night Football has always been somewhat elusive to cord-cutting football fans. Good news – times have changed, and the solution is a subscription to Sling TV (free trial). For only $20 a month, you get access to ESPN without cable(and 20+ live television channels).
Not only can you get access to Monday Night Football, but you can also stay up to date with NFL News and Game Highlights through Sports Center. And if you are still on the fence, 45 % of College Football games air on ESPN.
Hard Knocks without Cable
Who does not love Hard Knocks? Add the HBO option and catch up today!
NFL RedZone without Cable
Now let's talk about the holy grail channel for Fantasy Football: NFL RedZone. If you love Fantasy Football, you are going to absolutely die when you get a hold of the RedZone channel.
Think of every touchdown, every point-scoring play, with no commercials. Non-stop ass-kicking action starting at 10 am every Sunday morning.
In August 2016, Sling TV announced they would be offering this channel via their Blue package and through their Sports Extra add-on. Check out the Press Release to get the details. Want to learn more about Sling TV? Read "What is Sling TV" or just get moving with the 7-day free trial!
---
NFL Game Pass
Ok, so if you're unlucky enough to fall outside of the market of the ONE game you wanted to watch, there's a simple solution. It's called NFL Game Pass (free trial) and, you guessed it, it allows you to watch out of market NFL games.
For $99, you can get access to every NFL game this season. The only downside is that it becomes available to stream only AFTER the game has been played; but given that you don't have to wait an entire day after it airs, this is not that bad a trade-off. Also, with an anti-spoilers feature, you can avoid finding out the result in advance.  
There's also a free 7-day trial, so you can use the week to find out if you like it or not. 
And for the NFL Preseason, there are no restrictions. Watch every game Live on your favorite streaming device.
Even if you can catch the big game on OTA I would still recommend Game Pass because it is slam packed with A LOT of extra goodies that any football fan would love. 
Check out our NFL Game Pass review for more info.
---
NFL On FuboTV
One of the hottest new streaming services on the market, Fubo TV offers both Redzone and NFL Channel with their Sports Plus package. Read our Fubo TV review to learn more, or simply sign up for a free trial.
---
NFL Mobile
If you're a Verizon customer, and you don't want to purchase an antenna, there may be a cheaper solution for you. NFL Mobile is a streaming application for only Verizon customers and it gives you access to all the football games available in your market. It only costs $5 a month, and it's a great low-cost option for those that like to stream instead.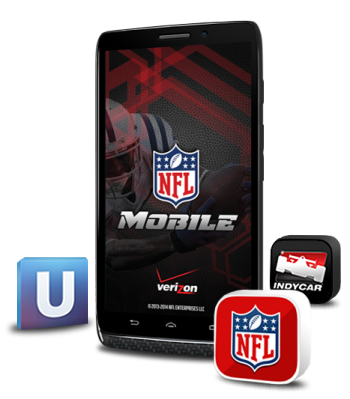 Not to mention the fact that is has a pretty great stat tracker; which is a must in my book.
You can also get access to the Red Zone channels for $2 extra. The Red Zone channel shows you every touchdown from every game on Sunday; so it's similar to watching a Best Of highlight reel, only better.
---
Want more? Check out my all-inclusive 11 Ways to Watch Football Without Cable. Sorry if you were expecting the bare minimum.
---
Cancel Cable but Keep your Fantasy Team
Although the cable companies would love for you to believe that playing Fantasy Football requires a cable tv subscription, the truth is quite the opposite.
Latest posts by Helen Back (see all)
Comments
comments